Modern Indoor Metal Planters with Stand | Cylindrical Shape Plant Pots
Modern Indoor Metal Planters with Stand: Everyone is a good designer, and your home is your creative garden. We are committed to providing indoor outdoor flower pots stands with popular styles in the contemporary era, with a medieval style, whether you decorate your own home or as a gift to celebrate friend moving new house, which is a very good home decoration product. These attractive planter pot with stand are an ideal way to enjoy your favorite plants and flowers.
Tags: Modern Indoor Metal Planters with Stand | Cylindrical Shape Plant Pots | Indoor Outdoor Planter with Stand | Buy plant pots online India | buy planters online in India | Modern Metal  Planters For Décor

Modern Indoor Metal Planters With Stand
They are sure to compliment any home decor. You will love them adorning outdoor areas such as your patio, deck, or garden or indoors in your kitchen, living room or bathroom . Not only provide a comfortable environment for the plants but also perfect blend with the home decoration. Bring more vitality and health to your life. Planters are suitable for all kinds of indoor decoration, such as desktops, windowsills, living rooms, kitchens, offices.
Features of Royal Design Indoor Metal Plant Pots with Stand- 
DECORATIVE POTS FOR INDOOR PLANTS : Small metal plant stand can fit most of your home decor and furniture, can be match variety of plants, flowers, pots stands, bring a natural and peace to your home .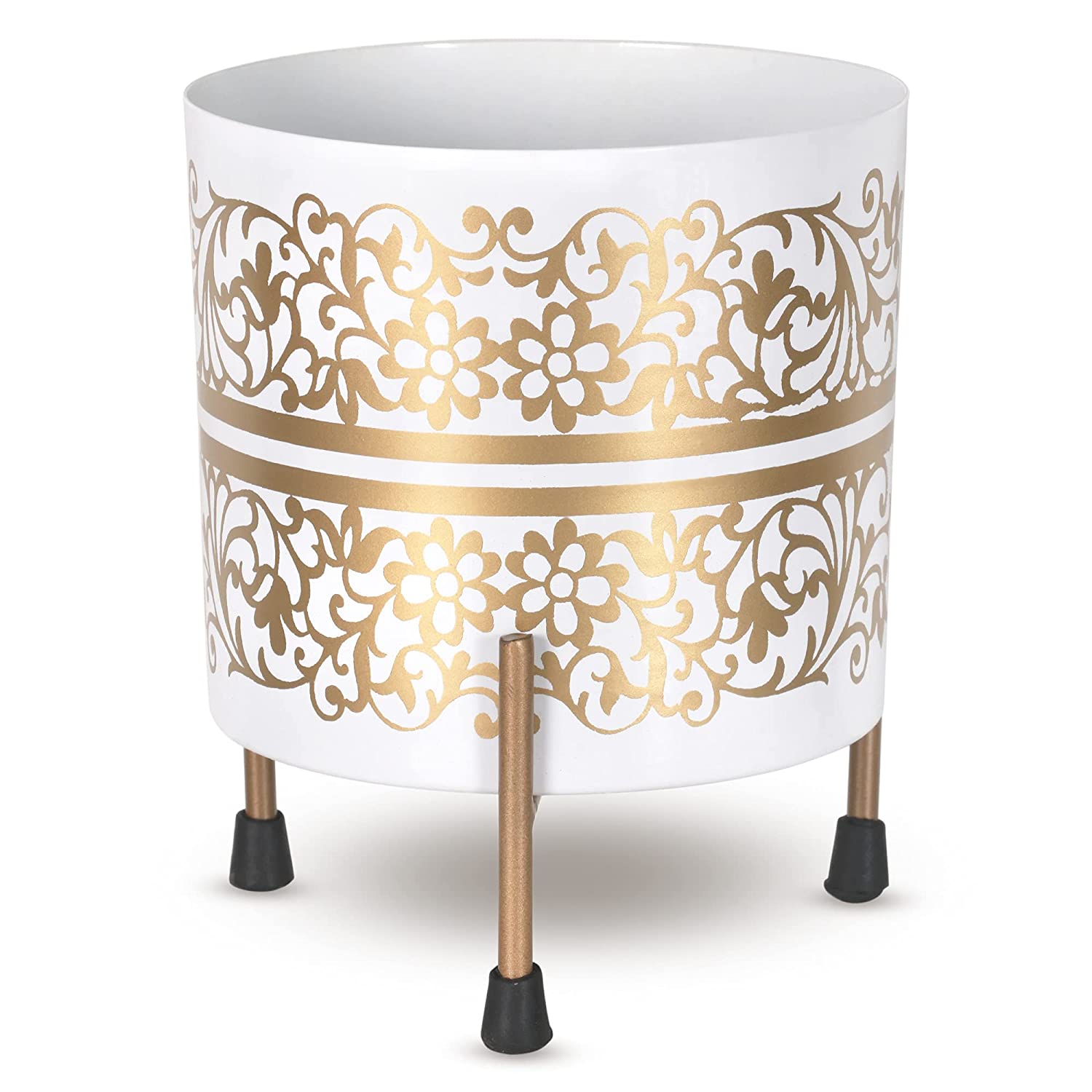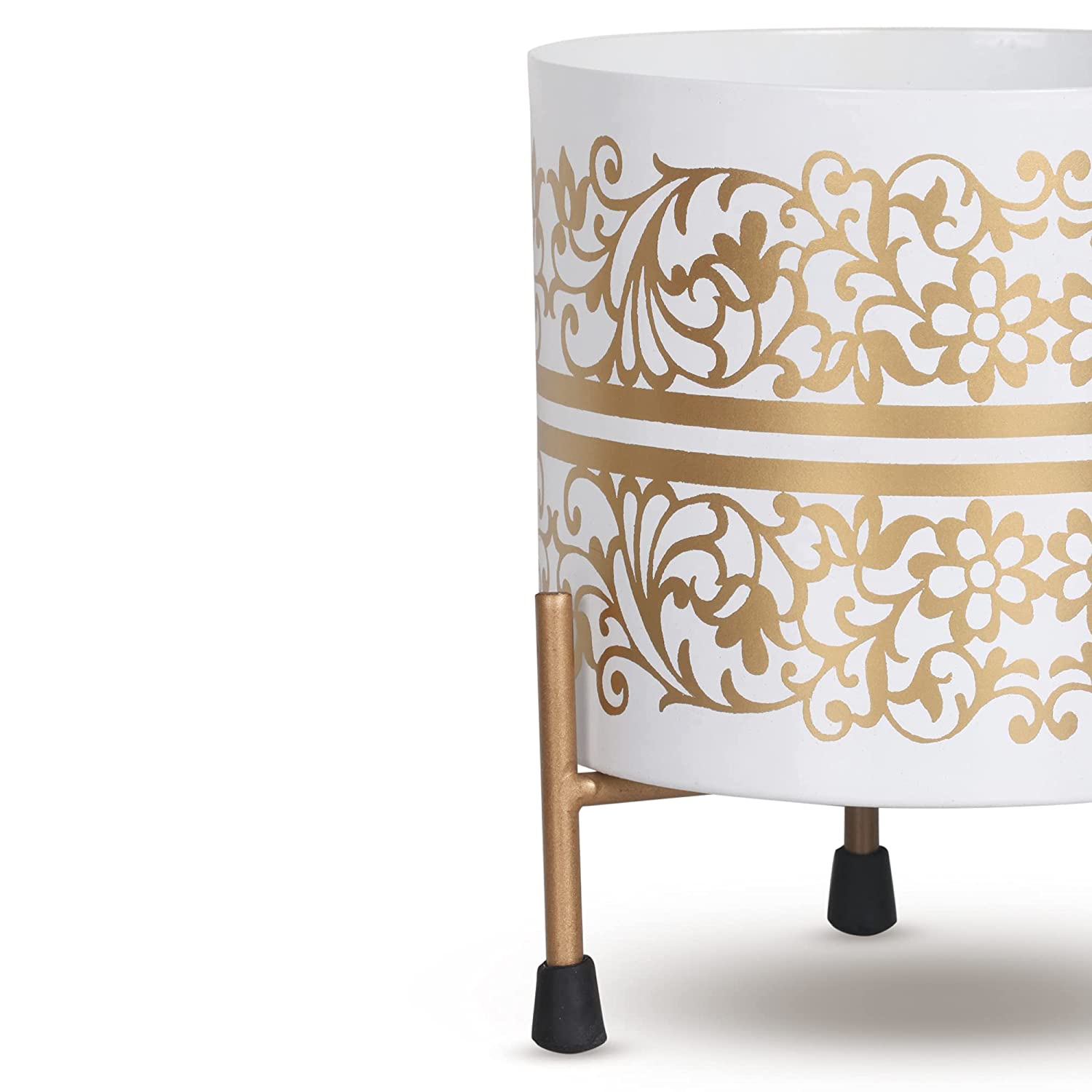 SIMPLE & BEAUTIFUL: The classic flower plant stand pot holders is suit for both modern home decor and rustic farmhouse, you can put your plant on it in your office corner, living room, next to the sofa and table, it will be a very nice decorations.
ADEQUATE DRAINAGE FOR HEALTHY PLANTS: Say goodbye to that thing all plants dread, Root Rot! Your plants will not have to suffer anymore. When too much water sits in the flower pots this creates a disastrous effect for our plants. The worry is gone with our planters for outdoor plants drainage hole designed to eliminate standing water that effects our plants healthy and green life.
DIMENSIONS : Diameter - 7.5 inches | Height - 9 inches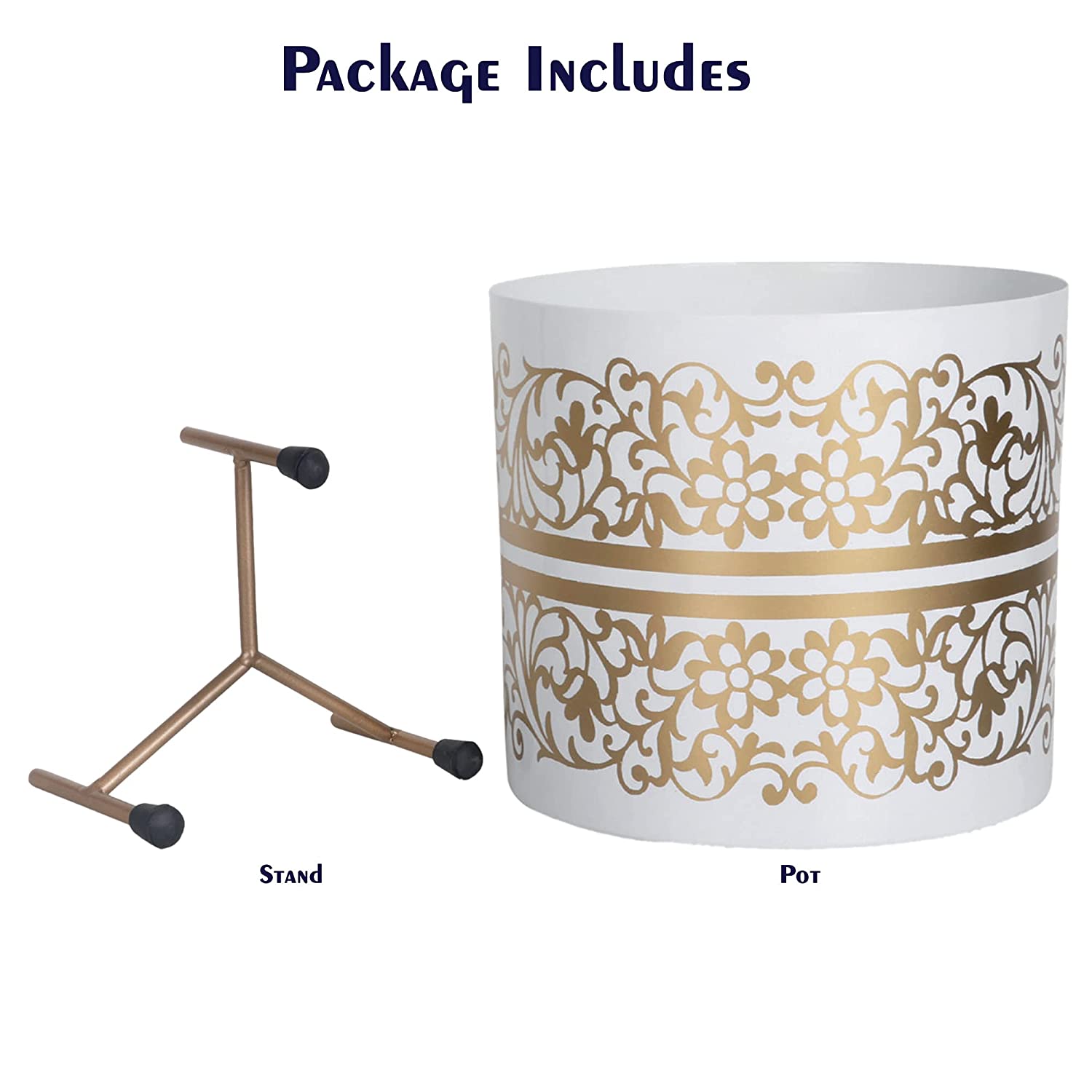 MODERN MID CENTURY STYLE - This beautiful indoor pot planter with stand is perfect mid century decor which will add timeless minimal style to your home. We love the clean lines of its design and the luxurious look .
Return & Cancel Details
To cancel the product:- If you want to cancel your order either COD or PREPAID, make sure that you will cancel it prior shipping has done. You can raise the order cancellation request within 24 hours of order purchased.
For Replacement:- Replacement of a Product will be eligible only for - Wrong Item, Damaged Product, Incorrect Size, Incomplete Product
For Return & Refund:- If you want to be eligible for return and refund of products, you should meet following guidelines of return policy.
Click Here for MORE
For the sake of our customers we inbuilt the terms and conditions about shipment of products, once ordered on our website.
All prepaid orders will be processed within 2-3 Business days. However, COD orders might take 6-7 days, as we need confirmation prior proceeding of shipment.
Shipping costs will be charged by the company itself, according to respective distance.
In order to check complete details, read- Domestic Shipping Policies
wonderful..... look Cool for home!!
So good packaging...and the quality is damn good...value for money👍